Rights Respecting School
We gained our Recognition of Commitment (ROC) Award in 2016 and we are absolutely thrilled to announce that we are working towards our Level 1 Award . We are so grateful to the children, parents, staff and governors for embracing our mission to become a Rights Respecting School.
Please see the document at the bottom of the page for a quick guide to a Rights Respecting School.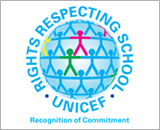 Our Steering Group, leading the work we do in school is made up of our Student Voice, our Pupil Leadership Team and Miss Dunbar They work very hard alongside all of our staff members to ensure the Rights Respecting ethos is embedded throughout our school.
What is the Rights Respecting Schools Award (RRSA)?
The award recognises achievement in putting the UN Convention on the Right of the Child (UNCRC) at the heart of a school's practice to improve well-being and help all children and young people realise their potential.
The award is based on principles of equality, dignity, respect, non-discrimination and participation. The initiative started in 2006 and schools involved in the Award have reported a positive impact on relationships and well-being, leading to better learning and behaviour, improved academic standards and less bullying.
Rights Respecting School Guide.